Our Internet shop Plaza.kh.ua
specialises on sale of audio and video equipment, household and office technics, computer Accessories, the software. We try to offer our buyers the maximum choice of production with the best Parity the price - quality.
We are really interested in that the technics bought from us served its owners long and regularly. On all The goods bought by you in our shop, the firm guarantee of manufacturers extends. We with pleasure will respond to all your wishes and offers, and also we will be grateful to the adequate criticism. We always Are ready to listen attentively to your opinion on our work.
Why it is necessary to choose us? Working with the large wholesale companies, we can give the most interesting offers on the digital technics, on To criterion, the price / quality.
We do not hold the big trading areas, we do not have big staff, we do not spend many money for advertising - all We have enclosed the saved money in the discount for the goods - for this reason to us address again and again and result the friends and Acquaintances.
You have a possibility to subscribe on E-mail news posting and the price-list, that to you will allow to receive "Freshest" The information on presence in a warehouse and about dynamics of the prices
At us the bonus system for the organisations and intermediaries is started. Time - first of all! Modern occupied the person does not presume to waste time to itself on wearisome spot-checks on retail shops, reeling up kilometres on megacity jams. Especially, if to consider, that hardly probable not all shops of electronic technics work to 18:00-19:00 hours.
We are avtorizirovannym dealer Microlab, D-link, Xerox.

---
Visit our Internet shop Plaza.kh.ua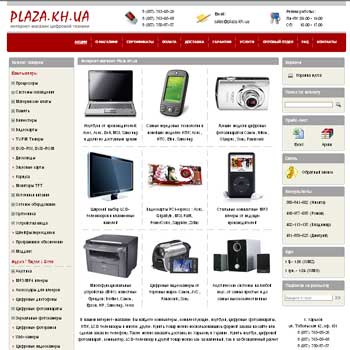 ---
Payment of the ordered goods in our Internet shop can be made by next ways:
- Cash you pay at office or to the courier after goods reception (only for Kharkov)
- Plastic cards For payment are accepted plastic cards of all kinds Visa, Visa Electron, MasterCard, Maestro through the terminal (only at office).
- the Clearing settlement For legal bodies: after reception of the order we will expose to you the account for payment. All necessary documents (the original invoice, commodity and tax waybills) will be delivered together with the order. For private buyers: after reception of the order we will give the account which you can pay in branch of any bank (thus to you it is necessary to pay bank services - usually it from 1 to 2 % from the payment sum).
- WebMoney Transfer Orders can be paid by means of system WebMoney Transfer. The Current rate of reception of title signs WMZ is resulted in the right part of pages of our Internet shop.
The Guarantee .
Warranty service of the goods got by you is made by the service centres which co-ordinates are specified more low. The goods of firms-manufacturers which do not have certificated service centres in Kharkov, are served through our guarantee department.
if you had questions on warranty service - call by phone: 8(057) 756-26-74.
Services Plaza.kh.ua
Cборка the computer, Installation Windows, software Installation.
WE INVITE TO COOPERATION!
One of priorities of development Plaza.kh.ua is wholesale trade. Cпециально the department on work with wholesale clients is for this purpose created: dealers, retail shops, individual businessmen and corporate clients.
We offer our clients as much as possible convenient working conditions:
- 2 000 names of computer technics and accessories in a warehouse;
- An individual approach to each client;
- Any form of payment: cash and the clearing settlement (without the VAT, from the VAT);
- Sending of your orders in all regions of Ukraine. The goods go express services Autolux and the Night express train.

For reception of fuller information address by phone
8(057) 750-8757